2 Ways Batman beat Joker : The Dark Knight
Updated: Nov 25, 2021
The Dark Knight, or any Batman movies by Christopher Nolan, is not just the hero versus villain's fist fight. Yeah, there's some cool moves but it runs deeper than we think.
First off, we have to acknowledge that Joker is not any villain. He doesn't seek power. He couldn't care less about money. He doesn't mind getting hurt or dying. Instead, he finds thrill in the midst of chaos, suffering, and evil. As Alfred wisely put it: he just wants "to see the world burns."
Therefore, the fight was for the soul of Gotham City. Joker's goal was to trigger fear and despair in every citizen then sit back to see the city destroy itself whole he drink s his martini.
Failed Attempt
At some point in the movie, Joker is behind bars. Yay, right? Well, not really. He'd already planted his evil seeds around Gotham with Harvey Dent as the main target. Now that the good guys physically detain Joker, there are a few options.
Kill him? No need. (Batman disagrees anyway.)
Torture him? He couldn't care less.
Convert him? Haha *snorts*
Batman tried the torture, the threats, yelling and some more yelling. Joker is unflinching. How do we make this mad genius psychopath crack?
First Win:Trust in humanity
After Joker started the bomb game where he gave each group the chance to blow the other one, the audience probably expected some complex military tactic from Batman. Yet, he surprised us all by doing the simplest yet hardest thing ever: to trust.
Joker's face is memorable when he realized that there was no explosion.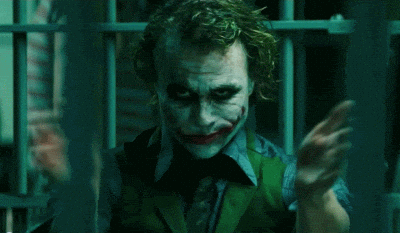 Second win: Hope
Joker is defeated but as any cautious villain, he made sure to create another one to finish his job. It would have been a scary plot twist for the Gotham citizens when they found out that the White Knight had flipped. Instead, Batman, as a true hero, chose to let go of his ego and shoulder the blame for Harvey Dent's crimes. Doing so has saved something unseen yet necessary: hope.
The Dark Knight ended on a grim picture yet it has given us a lot to think about.